I hope Mr. Anderson isn't offended that I call his items "gadgets"…he makes so many really cool, VERY useful little items out of solid Grade 5 Titanium, the term "gadget" fits.
I am fortunate to own several of Tom's creations. He makes them all BY HAND (i.e. NO CNC) in his shop in the basement of his home.
If you want to buy any of his items, I highly recommend them…actually, I cannot recommend them highly enoguh — they are just awesome. You'll see what I'm talking about when you get your items. Don't try to ask him for a discount though…his stuff is priced fairly for the amount of time and work (and tooling) used to make these things. You should see how many steps it takes to make some of these items…you'd probably be shocked…then you'd understand why they cost what they do. Tom's items are made EXTREMELY well and are the highest quality, American-made gear…not cheap, imported junk like other people try to pawn off on the WalMart crowd. This is one reason I really appreciate Tom's items — they are superior in workmanship and materials than anything else like it, the same as my Titanium chainmail pieces and paracord bracelets. He takes his work seriously and pays strict attention to detail and perfection, just like I do with my pieces.
Here are some of the items I have (shown here with a Munroe Dangler and two Ti split rings which are not included with the keychain vial):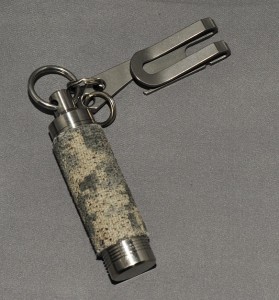 Keychain Pill Vial: I have this pill vial attached to a Munroe Dangler that clips to the edge of my pocket. It's the perfect size for me to be able to carry several doses of my pain medication, 800mg Ibuprofen, Advils, etc. It also is double o-ring sealed to keep the cap secured to the vial and also to keep the contents dry.
Small Pill Box (new version shown here is larger than mine…): This pill box is extremely handy for carrying the medication I need to have for my back pain (from the deployment to Iraq…joy…). It is small and very light-weight, so disappears in your pocket until you need your medication. It also has two o-rings to keep the contents dry, even in very humid environments.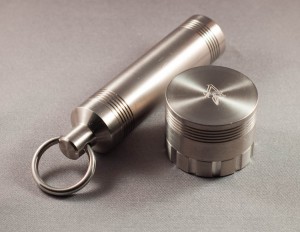 Titanium Fid for working with paracord (I actually received the first prototypes of these and helped Tom develop them…): I can't say enough nice things about this tool…especially since I'm the one that asked Tom to make one for me and gave input into its design. 🙂 It is the perfect tool for working with paracord (550 cord) and I make a LOT of items in 550 cord. It is definitely worth the price, as is all the cool gear Tom makes.
Here is a very special item Mr. Anderson made for me. It is a very personal item and I am disinclined to discuss its application here, but it is a beautiful piece and exceptionally executed. You cannot see the seam where the capsule opens, even upon very close examination. It's a beautiful piece. He said it's the smallest capsule he's made to date and will not be doing any more like it. I am very, very fortunate he made this for me.
T-Grip Driver: I carry this tool every day in my gear bag. It is perfect to quickly take apart and reassemble all sorts of stuff you might have to work on. The top spins very smoothly and sometimes I find myself spinning it, just because it's fun. It will take any standard 1/4″ bit driver you have…flathead, Philips, Torx, Allen, etc. Very handy.
Double Exposure Twister Pen: What can I say? This pen is awesome! It gets a lot of looks from friends. It is a big pen and hefty. I saw a pic where Tom hammered it through a 1/2″ (or 3/4″?) sheet of plywood. This pen takes a standard Parker gel ink refill which works very well. Mine is satin finished with gold anodizing in the recesses and looks very similar to this one:

Ti-Pull: A nice, titanium zipper pull.
Turbo Pod: The "Turbopod" is used on items to be able to find them in complete darkness. It does not need to be "charged" with light to use it. It will glow brightly for around 10 years after the tube is made at which point it's brightness will be about half what it was when new. The module may be switched out for a different color also.
Wanted to show a couple of more things here…here is a Large Keychain Vial…

And a couple of his new pens…the Executive III-T (the smaller one, at top) and Bolt-Action Twister pen (the larger diameter one, at the bottom)…both use the same Parker gel ink (Quink) cartridges and write beautifully…